Das Album Magic For A Better World ist in den 90gern entstanden.
Es wurde mit einer Roland VS-880EX, einer digitalen 8-Spur Workstation realisiert.
Der Sound ist also alles andere als optimal.
Grundsätzlich sind die Bassfrequenzen doch arg heraus gemischt.
8 Spuren sind außerdem viel zu wenig für eine professionelle Produktion.
Aber es geht auch.
Mir geht es nicht um Kommerz.
Die anderen fünf Alben sind mit der gleichen Workstation entstanden.
Dann war das Gerät einfach am Ende
(meine Geduld mit dem Gerät auch).
Bei dem Player mit EQ kann man mit den Frequenzen ein bißchen rumspielen.
Sämtliche Texte und die gesamte Musik stammen von mir, es sei denn, es werden andere Musiker genannt.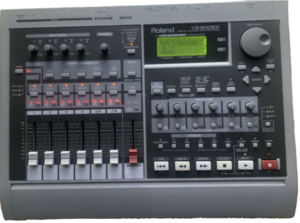 La Finca Blanca - Y Los tres ficcos Text und Gitarre Malo, Rest drJAW
Mary Christmas to everyone
This year we´ll have lots of fun
We rob the rich
Give nothing to the poor
Our christmas spirit is hard to endure
500 deers to pull our sled
We chase the living chase the death
This christmas journey
Is bound to hell
We on our way your souls to sell
Mary Christmas ho-ho-ho
This year we´ll have Chrystal snow
We wellcome you to our show
Mary Christmas here we go
Find A Love In Peru Bass & Synth
Jörg M.
Ride With The Mountain… Drums
M. Worzelberger